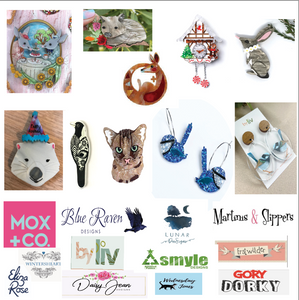 Rocklilywombats brands 
You can 'search' for a brand, or Earring, studs, Dangles, Necklaces. pins, brooches or just work your way thouugh some amazing items 
Current stockists : Luna Deesigns, Martini Slippers, Mox and Co, Wednesday Jones, 
Stock coming  : Paper Ruby, Blue Raven
Daisy jean Floral are now closed and i have 1 last delivery of stock to come in may 
Gory Dorky are no longer supplying stockists so its just waht we have left
Erstwilder Its all from my Vault and over may will all go up online theres around 150 items. Buy pricing and getting online for the big reveal. due online late May 2023
Eliza Rose no longer stocking online stores, so just whats left 
Wintersheart No longer stocking online stores, so just whats left some on sale
We ship World wide ASIA, NZ, EU, US, Canada. UK we can only ship calendars (printed material) and orders of goods (not inc shipping) over 139 pounds to UK due to betrix changes. Below this figure we are liable for pre paying vat and duties, gets very complicated for us. Over 139 pounds Vat and any other customs charges are paid at the UK boarder by the customer.
PLEASE DO NOT ASK US TO LIE ON LEGAL CUSTOMS DECLERATIONS OF VALUE, WE ARE THE ONES AT RISK  AND WE DO NOT DO IT. 
We are getting orders out 4 days per week. Cut off times to get orders out same day is usually 9 am Mon, wed, thur, Friday and 6am Tuesdays and Thursdays Contact us if its urgent and we can advise when were going. Closest post office is Taralga 40 min each way  and mail needs to be there by 2pm to catch the mail van out. Tue and if we are going down Thursday as well.  we leave early to Goulburn 1.5 hours away (each way)