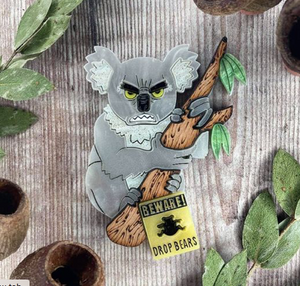 Drop Bear  by Gorydorky
Australia Mania 

Because each item is handmade some of the colouration may slightly differ from the pictured brooch.
Gory Dorky Afternoon tea brooch features two Bilby's enjoying a cup of tea and some pleasant conversation against the backdrop of the sky and eucalyptus trees
I've featured a golden wattle in the frame of this piece and I've included a range of treats for the Bilby's including macarons, cupcakes and sandwiches!
Gift Earrings are made by Dianna  and we try to match your brooch 
Plastic Jewellery encapsulating the quirky, cute and often strange...
GoryDorky is designed and made in the United Kingdom By Rob  
 Brooches don't like to be put through the wash. In fact, keep them away from water.
 The acrylic pieces can over time get scratches on the surface. If stored correctly, this will not be a problem. Keep them out of direct sunlight and indoor lighting.