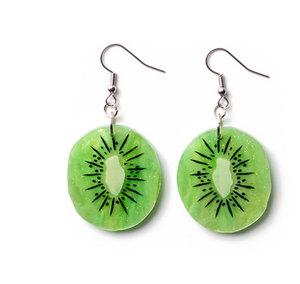 Kiwi Fruit Earrings  By Martini Slippers
Kiwi Fruit Earrings

The acrylic I use for the kiwi fruit on my Pavlova brooch is amazing. I love the swirls and slight glittery effect that shows up through out it so I thought I would make a trial version of Kiwi Fruit Earrings to match with the Pavlova Brooch and they look better than I could ever imagined.

Pale green ripple & glittery acrylic, hand painted on etched areas with stainless steel shepherds hooks.

Size: 3cm x 6cm (includes shepherds hook) 
Designed & assembled by Alex in Melbourne, Australia
We know you will enjoy these cute vintage inspired jewellery, we love the quality and attention to detail. 
How do I take care of my brooch
Our brooches don't like to be put through the wash. In fact, keep them away from water (and don't feed them after midnight).
The surface of our brooches vary and can consist of acrylic, bamboo & hand cast resin & polymer clay. Some of the bamboo pieces are unsealed and therefore won't survive a trip through though the washing machine. The acrylic pieces can over time get scratches on the surface. If stored correctly, this will not be a problem. Keep them out of direct sunlight.