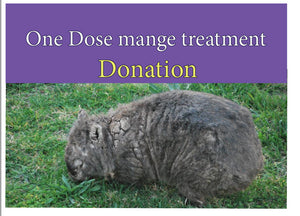 Gift Towards Treatment  a mangy wild wombat kit ONE DOSE TREATMENT
We can email a printable PDF you can give as a gift, or enclose this in one of our photo cards and post  please let us know which if any you would like. 
Your paying for mange treatment for someone who cannot afford it or it contributes to a treatment of a larger group of wombats.
Dose needs to be poured onto wombat directly. 
We send mange treatment kit out to landholders to treat their wild wombats whom have mange. Most would not treat them if they have to pay
 Your donation towards this is really a great help. We are not a charity. Were just a couple of ordinary folk who are trying to do the right thing. We fund all our wildlife work from our online shop and Wombat calendar and get no government or other funding.