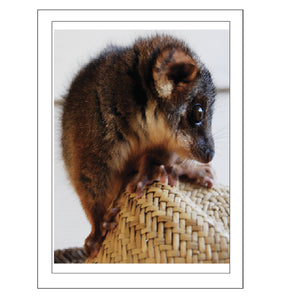 Bell the ring tailed Possum
 Bell the ring tailed possum, was an amazing escape artist, we were very relieved when she was release with a group in a drey localy.
Real photo on a blank on white 300g gloss cardboard with envelope in a cellophane bag.  
Size is 12 cm x 17.5 cm Folded
Add a card to a great gift, maybe  a pile of cards as a gift  or any occasion card as you can write in them yourself.
As a wildlife carer we notice all the animals I have cared for have really individual personalities and I try and bring this out in my paintings. I would like to think that looking at these wildlife characters brings a smile to the face of the viewer and connects people to our unique Australian wildlife.
At Rocklily we have a couple of different species of wallabies, Red-necked, Wallaroo, Swamp , Parma and the elusive Brush-tailed rock wallaby. The wallabies are more solitary, although they can be often seen grazing among the resident grey kangaroos in the early mornings.  Our wombats are the Bear nosed variety.  Possums here are Greater Glider, Yellow bellied Glider, Ringtail, Mountain brush tail, Feathertail. Sugar glider.