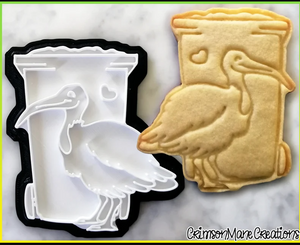 Bin Chicken cookie Cutter 3D printed Made in Australia. 

Now you can make cookies shaped like one of Australia's "favourite" birds, the Bin Chicken! Or if you prefer, the Australian White Ibis. This item has been hand drawn and 3D printed.
Measurements: 
Approx. 9 1/2 cms tall and 8 cms wide 
1/2 inch depth
*Subtract 1 cm from width and height for cookie measurements
Our 2 piece cookie cutters have been designed to be simple to use with an outer cutter for cutting and an inner embosser for stamping out details. Use the stamper lines as a guide for piping your frosting after baking, or you can just leave them unfrosted. The choice is up to you. Would also make a great fondant press for a whole range of baked and/or craft goodies.
We print each cookie cutter ourselves and they are checked over to avoid imperfections before shipping. This item is easily cleaned, child resistant and reusable. Clean with soapy warm water and a soft bristled brush.
Our cookie cutters are printed with PLA Plus which is a 100% food safe plastic. It is 10 times stronger than regular PLA, so your cookie cutters will be more durable. Tests have shown that PLA Plus is composed of safe ingredients that can come into contact with food products. It has been approved by the Australian Government, Department of Industry, Innovation and Science and also FDA (US Government Approved)