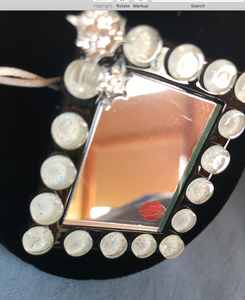 A star is born Brooch by Erstwilder Minute scratch very standard for this brooch considered perfect LAST ONE
SOLD AS IS NO RETURNS 

New in box   story card and teapot tag

Each piece is made from laser-cut and layered resin, hand assembled, hand painted and released in limited quantities. As all of our designs are lovingly glued, assembled and painted by hand, there can be very slight variations and blemishes from piece to piece. Due to the hand-mixed nature of the resins in our designs, it is also common and normal to find tiny flecks or bubbles in the resin layers. All in all, this just makes each piece as special and unique as you are.
 Each piece is hand assembled, hand painted and released in limited edition. All designs are made from layered resin. All metal components are made from a lead and nickel free base-metal.
Gift box included.
Please be aware that resin is akin to ceramic and glass and therefore may be damaged if dropped or knocked. Keep your Erstwilder companion neatly tucked away in this box when not being worn, avoid contact with perfumes, lotions, water and excessive sunlight and you have a trusted friend for years to come. Erstwilder brings the retro musings and quirky designs of leading Melbourne designers to life in an eclectic mix of colourful layered resin in a handmade limited edition they are collectable pieces of art! Erstwilder is a Melbourne-based label, designing and producing collectable, limited edition jewellery and accessories. Known best for our quirky brooches, our designs are fashioned to keep your outfits extraordinary and your days dandy. Erstwilder is made in limited editions in a small family factory in China. Contact us if you want more than we have in our website shop, so we can confirm with Erstwilder whether they still have stock. Be quick if we run out of stock, we might not be able to get any more in that colour, or at all! These are highly addictive and collectable.