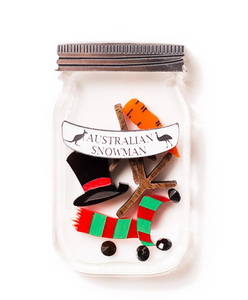 Australian Snowman jar Brooch  By Martini Slippers
 Christmas 
Australian Snowman Brooch
Ok, once there was a Christmas Day in Melbourne that was so cold that the hail that fell during the early morning was still on the ground when there was light in the sky. Maybe if you were super keen you could have formed the ugliest snowman but realistically this is as close to the real thing you will get. All the pieces are there but poor old snowman has melted on the inside of this jar. 
Size: 6.5cm x 3.8cm
Material: Hand assembled and painted on etched areas, clear, orange, black, red acrylic, MDF, plastic gems and Brooch finding on the rear.
Designed by Alex Mees in Melbourne, Australia
*This brooch contains small pieces and is not intended for children under 12 years of age. This brooch is NOT a toy. If this brooch is disassembled it could become a choking hazard, please discard immediately.
How do I take care of my brooch
Our brooches don't like to be put through the wash. In fact, keep them away from water (and don't feed them after midnight).
The surface of our brooches vary and can consist of acrylic, bamboo & hand cast resin & polymer clay. Some of the bamboo pieces are unsealed and therefore won't survive a trip through though the washing machine. The acrylic pieces can over time get scratches on the surface. If stored correctly, this will not be a problem. Keep them out of direct sunlight.