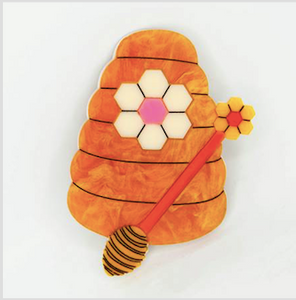 Bee Hive Brooch  by Daisy Jean 
Hand made in Australia 
Designed By Nicole Campbell for the brooch competition 2019.
In 2019 we held our first Design a Brooch competition where we asked our amazing customers to come up with a design for us to release. This is our winner!
Designed by Nicole Campbell from the USA, the She Bee is an adorably sassy lady with a little bee hive (see what we did there), a honeycomb hair clip and the most adorably sassy face. This delicious babe will be available for 2019.
Designed by Nicole Camplbell, laser cut and assembled here in Australia!
Size (from highest to widest point) :  7cm H / 6.5cm W
Daisy Jean began at the end of 2014 as a small online store on etsy with only a few select hair flowers.
 The brand was started initially as a place where ladies could buy high quality floral pieces where the flowers were the focus point, lending themselves to a range of pin up and retro styles. Since then this small business has flourished into something more and now specialises in short run exclusive acrylic jewelry. 
 With an initial company description of "Making beautiful flowers for beautiful women", in 2018 we have decided to change our slogan slightly to state simply "Making beautiful creations for beautiful women".  We are a company that is proud to support ALL women, both customer and other small business owners as well as using our pieces to encourage personal positivity and self-appreciation through creating gorgeous hand crafted pieces to help them feel and look their best.
In late 2017 our business expanded to a staff of 2, occasionally 3 to help keep up with the growing demand on our small business and we are a team proud to do our best for our customers. Daisy Jean is proud to have three amazing women as our face of the brand for 2019, which is part of our Pinup's Supporting Pinup's ideology. To learn more about our Face of Daisy Jean program, 
 We hope we can continue to grow and expand our business in 2019, with a focus on releasing new collections and ranges to our customers, as well as bringing on and collaborating with other small businesses to offer our customers the best range possible!
Thank you for supporting Daisy Jean Floral Designs and other small businesses!