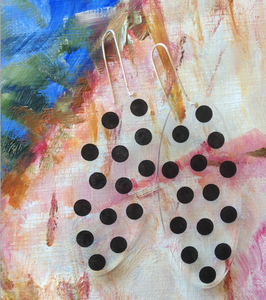 Black Dot  Dangles  By Katfish
Australian Bush christmas 
Simple and fun, the wattle ball's move as you swish your way thru the day!
Made in Sydney Australia by Kate. Her designs are classic and quality is fantastic. These are pieces of art and were so very proud to offer her range. 
Katfish = Kate Fisher
Artist - Designer - teacher - creative Unicorn
I am a primary school teacher who is taking on a creative sea change.

I have a long history in the arts and creativity. I am a trained photographer and have won awards for my work. I have previously worked as a freelance portrait and wedding photographer, as well as a photographic retoucher for a well known photographic studio. I design and sew a lot of my own clothes and clothes for others, including my own wedding dress and bridesmaid dresses for a client.
I also design logos and merch for bands, events, etc.


Monday to Friday I am a school teacher to a beautiful year one class.
Saturday's I work at a well known gallery as an art tutor for children.
Every other moment I am working my butt off as the boss lady for my creative adventure, KatFish Collection.
In this roll I am an artist and designer, creating limited edition wearable art in the form of earrings, brooches, tote bags, etc. and running workshops for both adults and children.

Creative arts and design have always been my passion and in 2019 I am leaving my second passion, full time teaching, to pursue the creative adventure that calls me.

Stick around to watch my exciting KatFish Collec
t