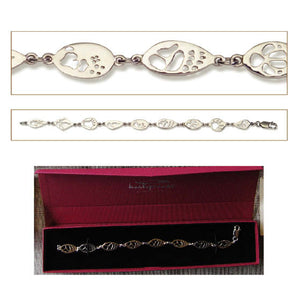 Bushprints Bracelet long with 9 footprints special order. 21 cm long
we have one in stock with the following on it in this order. 
Echidna, Koala, Wedge tail Eagle, Eastern barred bandicoot, dingo, tassie devil, Wombat, possum, Kangaroo. 
It will be a 2-3  week wait for your customers order  includes airmail shipping. A bracelet with 9 footprints, 21cm long will be specially made to order. You can chose from any of the bushprints footprints, or have all the same as is the wombat footprint in the picture. ( photo shows 8 & 9 link braclets) Please indicate what you want when ordering . Email us to let us know what you want and Gary will make it up especially. It will be about 2 to 3 weeks for delivery. Price includes postage within Australia. These inspirational footprints are cut out of solid sterling silver. For Gary, the maker, quality is the prime consideration and all pieces are carefully hand-finished, giving a fantastic lustre. They are beautifully gift-boxed and in stock now. If you are interested in the same range in enamelled 9ct yellow gold please contact us for pricing.