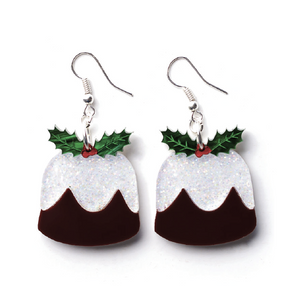 Christmas Pudding Earrings  By Martini Slippers 
What is Christmas Day without a Christmas Pudding? I originally designed this brooch five years ago and the very first version with hand painted bamboo with glitter. The next year I did an acrylic glitter version and the I skipped a year and decided to do another version given all the new acrylic choices available. So now a 2020 version and one that I know I will get a lot of wear out of.
Size: 4.1cm x 4.5cm
Material: Layered white & brown & white deluxe glitter acrylic, red swirled & green swirled acrylic &  a brooch finding on the rear.
Made in Melbourne, Australia
How do I take care of my brooch
Our brooches don't like to be put through the wash. In fact, keep them away from water (and don't feed them after midnight).
The surface of our brooches vary and can consist of acrylic, bamboo & hand cast resin & polymer clay. Some of the bamboo pieces are unsealed and therefore won't survive a trip through though the washing machine. The acrylic pieces can over time get scratches on the surface. If stored correctly, this will not be a problem. Keep them out of direct sunlight.