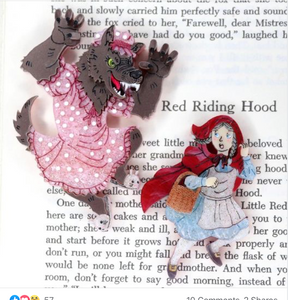 Little Red Riding Hood   Brooch 

by Gorydorky 
 Once upon a Rhyme 
Red Riding Hood Brooch measures 5.8cm by 3.7cm
Big Bad Wolf Brooch measures 7.5cm by 5.5cm
These Brooches features a variety of handcast swirled/glitter acrylics
The version of Red Riding Hood that introduced her titular hood was Le Petit Chaperon Rouge written by Charles Perrault in 1697.
In this version of the story the Wolf is successful in his schemes and eats both Red Riding Hood and her Grandmother.
Similar stories include the 16th century Taiwanese story called "Grand Aunt Tigress"
Red Riding Hood also bears similarities with the story "The Wolf and the kids" which originates from the 1st century and was told throughout Europe and the Middle East.
There is also the Italian tale "La Finta Nonna" meaning the false grandmother, this story features an Ogress instead of a wolf!
A poem written in Belgium in the 11th century tells the tale of a girl in a red baptism tunic who is eaten whole by a wolf.
There are numerous versions of the story and it continues to be rewritten and retold to this day!
Gift Earrings are made by Dianna  and we try to match your brooch
Plastic Jewellery encapsulating the quirky, cute and often strange...
GoryDorky is designed and made in the United Kingdom By Rob  
 Brooches don't like to be put through the wash. In fact, keep them away from water.
 The acrylic pieces can over time get scratches on the surface. If stored correctly, this will not be a problem. Keep them out of direct sunlight and indoor lighting.