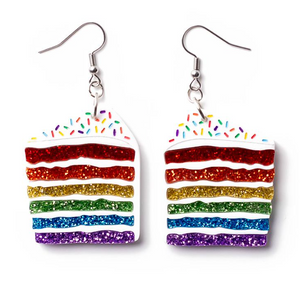 Rainbow Cake Slice Earrings - Glitter By Martini Slippers
Rainbow Cake Slice Earrings GLITTER!!!

Did someone say cake? A GLITTERY rainbow coloured cake slice? Yes please and who can say no to so many beautiful layers of bright and vibrant colour. A must wear to any birthday party or on your birthday or on your besties birthday or just because you love cake!
Laser cut white, purple glitter, blue glitter, green glitter, yellow glitter, orange glitter and red glitter acrylic, hand painted on etched areas with stainless steel shepherds hooks
Size: 3.4 cm x 4.2cm
Material: Acrylic
Made in Melbourne, Australia
How do I take care of my brooch
Our brooches don't like to be put through the wash. In fact, keep them away from water (and don't feed them after midnight).
The surface of our brooches vary and can consist of acrylic, bamboo & hand cast resin & polymer clay. Some of the bamboo pieces are unsealed and therefore won't survive a trip through though the washing machine. The acrylic pieces can over time get scratches on the surface. If stored correctly, this will not be a problem. Keep them out of direct sunlight.