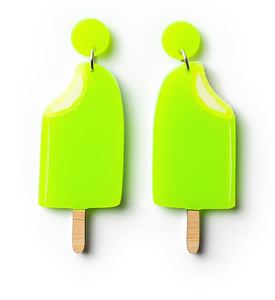 Splice Earrings By Martini Slippers
Splice Earrings

The perfect blend of creamy ice cream in the middle and the outside was like eating frozen cordial! As a kid I had this bizarre idea that some ice creams were for kids and others were for grown ups. The Splice was definitely for the grown-ups until I was given a splice at a playdate and loved it.
So it's only natural that I made the brooch & earrings version of another of my fav childhood treats.
Laser cut white, cream, fluro green & yellow acrylic. Bamboo stick and stainless steel stud post.
Size: 2.5cm x 7.4cm
Material: Acrylic
Made in Melbourne, Australia
How do I take care of my brooch
Our brooches don't like to be put through the wash. In fact, keep them away from water (and don't feed them after midnight).
The surface of our brooches vary and can consist of acrylic, bamboo & hand cast resin & polymer clay. Some of the bamboo pieces are unsealed and therefore won't survive a trip through though the washing machine. The acrylic pieces can over time get scratches on the surface. If stored correctly, this will not be a problem. Keep them out of direct sunlight.