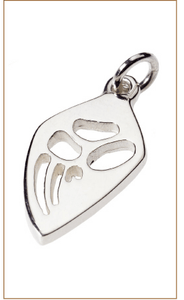 Bushprints Sterling Silver Echidna Footprint Pendant
These inspirational Echidna footprints are cut out of solid sterling silver. For Gary, the maker, quality is the prime consideration and all pieces are carefully hand-finished, giving a fantastic lustre. They are beautifully gift-boxed and in stock now. Weight: 24 g in gift box. Postage for 1 now 50% off, now only $4. Free postage for 2 or more in Australia. If you are interested in the same item in 9ct yellow Gold and we don't have them in-stock in please contact us a it's just a 2 week wait while Gary makes them for you. 
Length 18 mm 
Short-beaked echidna (Tachyglossus aculeatus) The short-beaked echidna is a monotreme, an egg-laying mammal. It inhabits a variety of ecosystems in Australia and Papua New Guinea. Echidnas have disappeared from many parts of their natural range. Echidnas can live for 50 years and keep their baby (called a puggle) in a pouch, then a burrow as it gets bigger, feeding it only every couple of days. They should not be moved from their home range, as you could be leaving a puggle to starve.