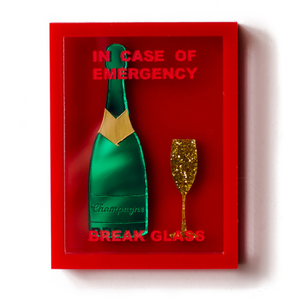 Emergency Champagne Box Brooch
Emergency Champagne
There are always those times when you need to celebrate but don't have any champagne on hand. Well never fear, emergency champagne box brooch to the rescue! Complete with a tiny gold glitter champagne glass, just in case! 
Hand assembled clear acrylic, red acrylic, green mirror with hand painted gold accents & gold glitter acrylic. Finished with a brooch finding on the rear.
Size: 47mm x 63mm x 12mm
Designed & assembled in Melbourne, Australia 
How do I take care of my brooch
Our brooches don't like to be put through the wash. In fact, keep them away from water (and don't feed them after midnight).
The surface of our brooches vary and can consist of acrylic, bamboo & hand cast resin & polymer clay. Some of the bamboo pieces are unsealed and therefore won't survive a trip through though the washing machine. The acrylic pieces can over time get scratches on the surface. If stored correctly, this will not be a problem. Keep them out of direct sunlight.