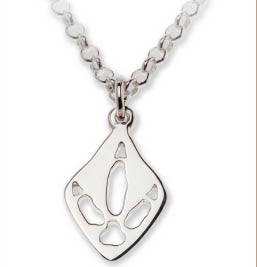 Bushprints Sterling Silver Emu Footprint Earrings
These inspirational Emu footprints are cut out of solid sterling silver. For Gary, the maker, quality is the prime consideration and all pieces are carefully hand-finished, giving a fantastic lustre. They are beautifully gift-boxed and in stock now.. If you are interested in the same range in 9ct yellow gold please contact us for pricing.
Length 19 mm  Chain 50 cm
Emu facts The emu is Australia's largest bird, standing about 2 metres (6 feet) tall, and weighing up to 54 kg (120 lb). Emus cannot fly but they are fast runners up to 48 km (30 mi) per hour. Surprisingly, they are also strong swimmers. Some scientists consider emus to be living dinosaurs because their bones and joints are similar to dinosaurs'. Their ability to store fat allows them to go without food for long periods of time. Emus can defend themselves with tremendously powerful forward kicks. They eat great quantities of caterpillars, grasshoppers, and masses of the burrs that tangle sheep wool, which makes them helpful to farmers. Emus can be seen locally on sheep farms grazing with sheep.