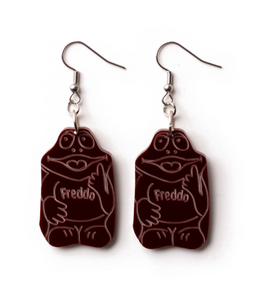 Splice Brooch  By Martini Slippers
Freddo Frog Earrings

In real life my children and I often make Frog In A Pond for them to eat. You know the green jelly cups with the choc freddo frog stuck in stop - because too much sugar is not enough. I don't eat the jelly, definitely not a fan of jelly BUT it's Mum Tax to have a few sneaky Freddos and I thought they would make cute earrings to go with my Frog In A Pond Brooch.
Light brown acrylic with stainless steel shepherds hooks.

Size: 2.9cm x 6.5cm (includes shepherds hook)
How do I take care of my brooch
Our brooches don't like to be put through the wash. In fact, keep them away from water (and don't feed them after midnight).
The surface of our brooches vary and can consist of acrylic, bamboo & hand cast resin & polymer clay. Some of the bamboo pieces are unsealed and therefore won't survive a trip through though the washing machine. The acrylic pieces can over time get scratches on the surface. If stored correctly, this will not be a problem. Keep them out of direct sunlight.