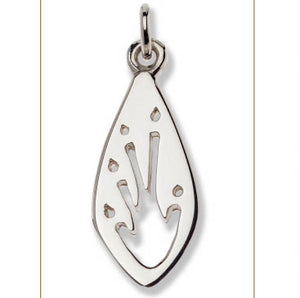 Bushprints Sterling Silver Frill-necked Lizard Footprint Pendant
These inspirational footprints are cut out of solid sterling silver. For Gary, the maker, quality is the prime consideration and all pieces are carefully hand-finished, giving a fantastic lustre. They are beautifully-gift boxed and in stock now. If you are interested in the same range in 9ct yellow gold please contact us for pricing.
Length is 20 mm 
The frilled lizard, also known commonly as the frill-necked lizard, frilled dragon or frilled agama, is a species of lizard in the family Agamidae. The species is endemic to northern Australia and southern New Guinea. This species is the only member of the genus Chlamydosaurus.
They are brown or grey in color. This lizard gets its name from the frill around its neck, which it can extend when it feels threatened. The frill is lighter in color than its body and can also have orange, yellow, and red patterns on it.