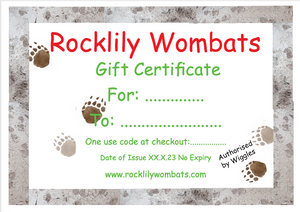 Customised Gift Certificate
Simply email is with how much and who you want it for
We will then issue with a 'draft invoice' you can pay online on our website 
Once paid we will issue  customised gift certificate with code and Details you of person we can add who its from if you would like as well. 
This could take a few hours depending on time zones and be emailed to you 
rocklilywombats@gmail.com
There is no expire date on gift certificates
Certificates can be used for items as well as postage. 
We cannot issue any change from Gift certificates.