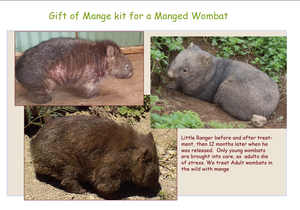 Gift towards treatment a mangy wild wombat 
We will automatically add A gift card to your order, if you would like the PDF  we can email this to you. 
Your gift helps us and also so we can help others in treating Wild Manged Wombats where they live.
 
 Moving a wild  adult wombat into care will result in its death due to stress.  We take in baby wombats and have had great success treating them. 
Mange in Humans is known as  sacbies. It can kill a wombat in a slow itchy death in just 3 months. 

  Echidna's, koalas and some Wallabies, are also effected by mange and it means  a slow itchy death to them  unless treated. 

For treatment to be effective all the mange mites living in the burrows the wombats used must be killed they last three weeks in the environment so it can take some time. 

Newer costly one dose treatments are used when this can be applied directly on the wombat.
Dianna & Warwick rocklilywombats Wombeyan Caves NSW Australia. rocklilywombats@gmail.com