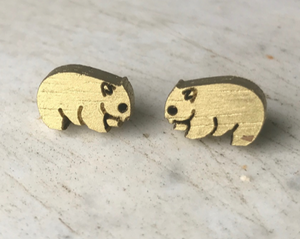 Heavenly  Wombat  Gold Wood Small studs By Dianna
Heavenly Creatures range celebrate the wonderful resilience of our wildlife. Bringing to life what has gone and what is left after the fires and floods of 2019-2020. 
Single layer wood 
Silver earring findings with comfort backs 
 size 11 mm wide  x 7mm high
made by Dianna at Rocklily Wombeyan Caves NSW 
Note image worn by Jannah is plain wood to give a size comparison.
We are totally self funded and all profits from our website and things we make, go in some way towards the costs for running our wildlife refuge. This includes specialist milk, hay, straw and other pellets, vet bill's, medications and dressings, repairs to enclosures, washing and costs for bags, bottles and teats. Costs of building new enclosures such as release pens, wildlife camera consumables, petrol for grass cutting and rescues. all just to name a few things! So we really appreciate every sale no matter how small, it's all wonderful.