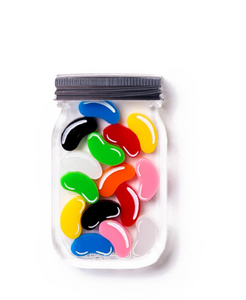 Jelly Bean  jar Brooch  By Martini Slippersr

A request from an amazing Broochie to make a jar brooch with Jelly Beans - brilliant idea!. Every school fete I have been to always has a Jelly Bean guessing competition with an enormous jar filled with HUNDREDS of Jelly Beans. I haven't ever won but in the meantime this Jelly Bean Jar Brooch will do me fine!

Hand assembled clear acrylic filled with blue, red, pink, green, yellow, orange, white pearlescent, black and orange acrylic and a two tone silver & black lid with a brooch finding on the rear.
The mix of Jelly Beans placement and colour varies with each brooch.
Size: 38mm x 65mm x 7mm
Made in Melbourne, Australia
*This brooch contains small pieces and is not intended for children under 12 years of age. This brooch is NOT a toy. If this brooch is disassembled it could become a choking hazard, please discard immediately.
How do I take care of my brooch
Our brooches don't like to be put through the wash. In fact, keep them away from water (and don't feed them after midnight).
The surface of our brooches vary and can consist of acrylic, bamboo & hand cast resin & polymer clay. Some of the bamboo pieces are unsealed and therefore won't survive a trip through though the washing machine. The acrylic pieces can over time get scratches on the surface. If stored correctly, this will not be a problem. Keep them out of direct sunlight.