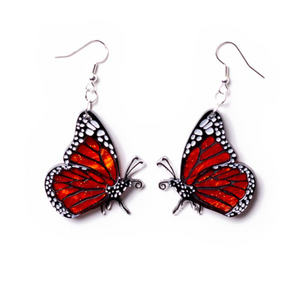 Monarch Butterfly Earrings  By Martini Slippers
A perfect pairing to the Monarch Butterfly Brooch, the orange swirl acrylic on these Monarch Butterfly Earrings have a slight hint of glitter on their wings. 
Size: 3.5cm x 6.5cm (including shepherds hook)
Material: Layered clear, black and orange glittery swirl acrylic. Hand painted on etched in areas with stainless steel shepherds hook.
Made in Melbourne, Australia
We know you will enjoy these cute vintage inspired jewellery, we love the quality and attention to detail. 
How do I take care of my brooch
Our brooches don't like to be put through the wash. In fact, keep them away from water (and don't feed them after midnight).
The surface of our brooches vary and can consist of acrylic, bamboo & hand cast resin & polymer clay. Some of the bamboo pieces are unsealed and therefore won't survive a trip through though the washing machine. The acrylic pieces can over time get scratches on the surface. If stored correctly, this will not be a problem. Keep them out of direct sunlight.