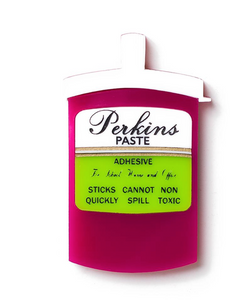 Perkins Paste  Brooch  By Martini Slippers 
If you went to school in Australia before the start of the 90's then you definitely remember Perkins Paste. This was the only glue you could have on your desk and in your pencil case. The cute little purple pot with the lid that popped off and revealed the plastic brush that helped spread that gluey goodness. Of course the smell was unforgettable.
I loved this glue so much and just had to make my own version of the Perkins Paste Brooch.
Size: 4.2cm x 8cm
Material: Acrylic
Brooch finding on rear.
Made in Melbourne, Australia
How do I take care of my brooch
Our brooches don't like to be put through the wash. In fact, keep them away from water (and don't feed them after midnight).
The surface of our brooches vary and can consist of acrylic, bamboo & hand cast resin & polymer clay. Some of the bamboo pieces are unsealed and therefore won't survive a trip through though the washing machine. The acrylic pieces can over time get scratches on the surface. If stored correctly, this will not be a problem. Keep them out of direct sunlight.