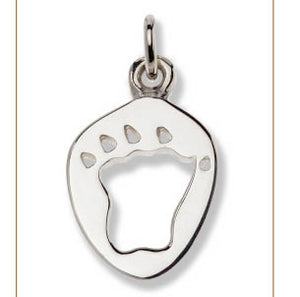 Bushprints Platypus Sterling Silver Footprint Pendant
These inspirational Platypus footprints are cut out of solid sterling silver. For Gary, the maker, quality is the prime consideration and all pieces are carefully hand-finished, giving a fantastic lustre. They are beautifully gift-boxed and in stock now.
Length 17 mm
Platypus Facts Playtpus are generally active at night and not commonly seen. They live in a burrow and lay eggs, and these hatch after 2 weeks. Mums feeding their young platypuses can consume their own body weight in food in a 24-hour period! I have seen Platypus only once when canoeing, in my many years in the bush. We do apparently have them in rivers nearby Rocklily, but they are very shy.