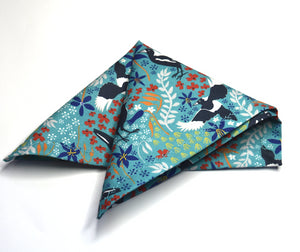 Magpie teal Pocket Chief  Bow Tie Unique and Limited Edition 
Select from our Unique new range of  handmade Bow ties & Pocket chefs  by Allison for Rocklilywombats.
These are sure to delight the Dandy, and the  Funky One  in anyone, dressing up or down they can be fun and we know these will bring a smile to all those who see them. Dare to wear them on a daily basis, and delight those around you.  That's right ladies, why let the dudes have all the fun!
 Handmade from high quality fabric's. Note fabric is single sided
Size 20 x 20 cm 
Yes will fit your four legged friend or your young two legged dude. 
 Every bow tie could be the start of something, a conversation an interlude or just a pleasant time. 
Matching pocket chief available
These come in a practical and strong gift box with care and fabric pattern information card to help keep them looking great for years to come.
 All Profits from these as all our website help us run Rocklily and help others treat Mange in wild wombats.