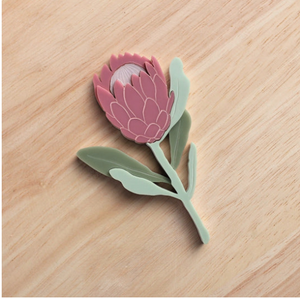 Protea Brooch by  Blue Raven Designs
Made in Southern Highlands NSW Australia 
 SIZE 10 x 6 .5cm 
This new version of my Protea brooch comes in soft pastels.

This brooch has been layered to create a three-dimensional effect. The flower is a dusty pink colour that has been laser etched and painted. The stem and leaves are a light and dark sage colour.

The brooch can be worn at any angle and on either side of your body. There's a locking pin on the back of the flower and a second smaller non-locking pin on the back of the leaf for added support.
It measures 90mm L x 60mm W (at its widest point).
Designed, cut and handmade in Australia.
Hi! I'm Katie

I am the designer and maker behind Blue Raven Designs. 
I was born in the Southern Highlands and have lived here ever since.
I'm an artist - I come from a family of artists, graphic designers and illustrators.
I've been drawing since I could hold a pencil.
 
I love Australian native animals and plants, which has been a huge inspiration for my work. I'm also obsessed with jewellery…..and clothes, and makeup, and handbags and ….lots of other things!
When I was 18, my mum opened a jewellery shop, 
Kish
, which we ran in Berrima and Bowral for 17 years. 
I am a mum of two boys and a dog mum of two Siberian Huskies, Titan and Daisy. 
All my jewellery you see here has been designed by myself and lovingly made in my home with the occasional help from my mum and my husband.