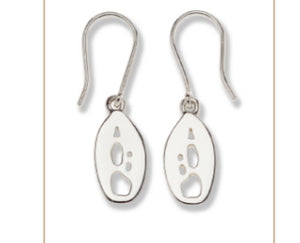 Bushprints Sterling Silver Quokka Footprint Earrings
These inspirational Quokka footprints are cut out of solid sterling silver. For Gary, the maker, quality is the prime consideration and all pieces are carefully hand-finished, giving a fantastic lustre. They are beautifully gift boxed and in stock now. Weight: 24 g in gift box. If you are interested in the same item in 9ct yellow Gold and we don't have them in-stock in please contact us a it's just a 2 week wait while Gary makes them for you.
Length 16 mm  Excludes earring hooks
Quokka Facts A quokka is a Western Australian small marsupial and is also found off the coast on Rottnest and Bald Islands. They look like small wallabies, standing about 90 cm high, and are nocturnal. They are plant eaters and can go for months without water. They live for about 5 years and have a joey a year, who will stay with mum for about 35 weeks. Cats, dogs and foxes have caused quokka numbers to fall, and they are now endangered.