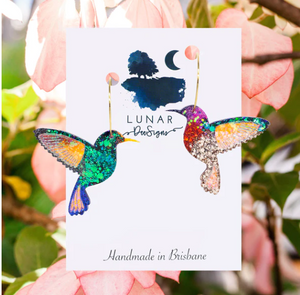 Resin Birds: MISMATCHED Herbert & Hamish Hummingbird - Hoops  
By  Luna Deesign
MISMATCHED  - Can't decide between Herbert and Hamish? Now you don't have to!! Wear them both as a mismatched pair!!
They are absolutely beautiful, unique and handmade from resin.  Made with a mix of pinks, deep orange, chameleon green and golds and accented with an iridescent, intricately detailed wing and tail.
Measuring approx. 4cm in height fixed with gold plated hypoallergenic surgical stainless steel hoops (if you would prefer un-plated hoops, please leave a note at checkout). These stunners hang at an angle to the face as though in flight (as shown in the modelled photo).
  All earrings are completely handmade by my own two hands this means that each individual earring within the pair will be different in terms of glitter placement, making each bird unique. Resin begins as a free moving liquid and therefore is poured differently each time. Very slight cosmetic imperfections may be present but these do not affect the integrity of the earring design and are unique to handmade items. Quality control is high at Lunar HQ and I would never send out an item which I would not be happy to wear myself.
Please note: you may not receive the birds in the photograph, however yours will be just as beautiful.  
Lunar DeeSigns Pty Ltd is a handmade jewellery business based in Brisbane. All the jewellery on this  is uniquely designed, handmade and packaged by myself, Dee. I am also proud to support other handmade Australian artists and often have collaborations, and pieces made by other local businesses on this site.
I use the best quality components and surgical stainless steel findings and everything is made to a very high standard. All collections are made in limited runs with very little wastage.
Each item is completely unique due to their handmade nature, and new designs are being made all the time. So if you would like to keep up to date please follow along on Instagram and Facebook.
I am a single Mum of 3 gorgeous boys and will the support of my wonderful family and friends, since 2017, Lunar DeeSigns has become my full time job with which I support my family.
 By supporting a handmade business you aren't helping a CEO buy his third investment property, or his second boat, you are supporting a local family, a Mother to put food on the table and provide school uniforms for her children. By choosing to buy from a local artisan you are making a difference in someone's life,
Thank you,
Dee :)


Jewellery Care
Resin
Resin is a very hardy medium however should be treated like a ceramic - Please treat all your pieces with the utmost care - resin is likely to break if dropped or if banged with something hard.
All resin must be kept away from direct sunlight or sources of heat. Over time, some pieces of resin jewellery, such as bangles (which have been hand sanded and polished) may appear to dull in their appearance, especially if exposed to water. To bring back the sparkle give it a quick clean, and then use a soft cloth or your fingers and add a small amount of cooking oil or moisturiser to the jewellery's surface.
Do not wipe resin which has been drawn on with acrylic paint markers as this will fade the paint.
Some resin pieces have glued on pieces of acrylic (such as wings or beaks) and these must be treated very delicately. Do not bang or drop, and be extra careful if travelling with them.
Hypoallergenic Surgical Stainless Steel
All findings (unless otherwise stated) are hypoallergenic surgical stainless steel which are great for sensitive ears and resistant to tarnishing.
Please do not wear your earrings in the shower or swimming as this will weaken the glue on pieces which have been glued.
Lunar DeeSigns' jewellery is intended to be worn by adults.