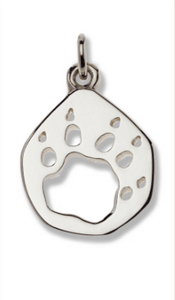 Bushprints Sterling Silver Tasmanian Devil Footprint Pendant
These inspirational Tassie Devil footprints are cut out of solid sterling silver.
For Gary, the maker, quality is the prime consideration and all pieces are carefully hand-finished, giving a fantastic lustre.
They are beautifully gift-boxed and in stock now. Weight: 24 g in gift box.
. Free postage for 2 or more in Australia. If you are interested in the same range in 9ct yellow gold please contact us for pricing. Tasmanian Devil Facts Tassie Devils were nearly hunted to extinction in the early 20th century. Today they face the same fate, as they are rapidly being wiped out due to Devil Facial Tumour disease, a rare form of cancer passed from one devil to another when they bite each other. Devils are nocturnal, and are scavengers which means they eat everything – hair, bones, the lot! They have about 2 to 3 joeys, and when under stress release a foul odour.