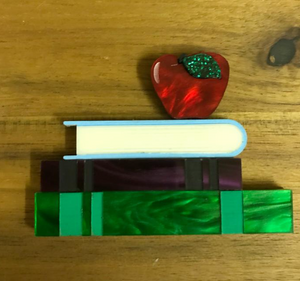 Teacher Brooch  by Mox + co
 Hand-layered  and hand-painted brooch 
This is a gorgeous way to say thank you to an amazing teacher. This brooch comes with NO NAME ENGRAVING. This brooch comes blank as per photo.  get your name engraved on it! 
designed and fully handmade in Brisbane 
Good conversation starter anyone?

All of our jewellery is made using acrylic which are breakable if dropped, hit again hard surfaces or placed under pressure. Although we use strong jewellers glue, acrylic is still fragile and can easily snap if placed under pressure.
Please avoid perfume, lotions or water (remove before swimming/showering). 
Please be careful with you're jewellery and store it accordingly away from direct sunlight.