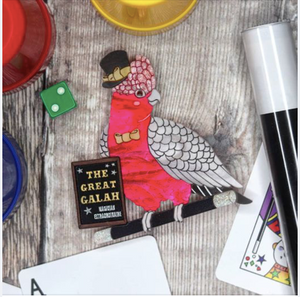 The Great Galah by Gorydorky + gift Rocklily earrings  
Australia Mania 
Items in Pre Order are  in manufacture By Rob in UK 
another order will be placed shortly for 2nd delivery end may 
When this little Galah decided to become a magician he probably should have picked a different stage name for himself!
Despite the laughs he might get when introducing himself he's actually a rather talented little fellow!
Gift Earrings are made by Dianna  and we try to match your brooch 
Plastic Jewellery encapsulating the quirky, cute and often strange...
GoryDorky is designed and made in the United Kingdom By Rob  
 Brooches don't like to be put through the wash. In fact, keep them away from water.
 The acrylic pieces can over time get scratches on the surface. If stored correctly, this will not be a problem. Keep them out of direct sunlight and indoor lighting.