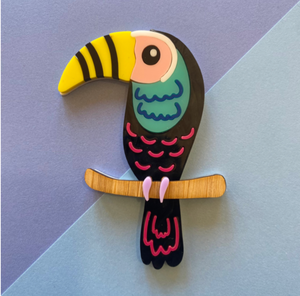 Toucan Brooch by Mox + co 
Toucan do Monday! You got this!
 Hand-layered  and hand-painted brooch -
designed and fully handmade in Brisbane 
59 x 80 mm 
Good conversation starter anyone?
If stock goes negative your order becomes Pre order and  your stock is 2 -3 weeks away! 
All of our jewellery is made using acrylic which are breakable if dropped, hit again hard surfaces or placed under pressure. Although we use strong jewellers glue, acrylic is still fragile and can easily snap if placed under pressure.
Please avoid perfume, lotions or water (remove before swimming/showering). 
Please be careful with you're jewellery and store it accordingly away from direct sunlight.