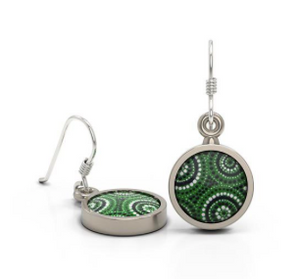 Waterholes Earrings Round Allegria Designs
Kathleen Buzzacott Collection
The earring frames are made from pewter and then plated in nickel. The earring hooks are sterling silver. The earrings come in their own presentation gift box.
Designed and made in Australia
 Diane of Allegria Designs first came across Kathleen Buzzacott's artwork whilst on holiday in Alice Springs. The textures and colours are ideally suited for inclusion in our jewellery. We are proud to be collaborating with her.
Kathleen gets royalties from each item sold. Kathleen Buzzacott was born in Alice Springs where she has lived to raise her two boys with her husband, though in her early childhood, she moved to Queensland with her father, brother and sister. At the age of ten, Kathy and her siblings moved back to Central Australia to live with their mother in Hermannsberg. Her Language is of the group Western Aranda and her Tribal group derives from Pitjantatjara. Her mothers country spans across the borders of South Australia, Western Australia and the Northern Territory. Kathleen is a hairdresser by trade, but also focuses on and is developing her skills as an artist. She began painting 16 years ago along with her sister Julie-Anne Paige who is a prominent artist in her own right. Kathleen paints bush tucker and childrens stories which reflect her own happy childhood growing up with her family out in the bush. Her work is keenly sought after by the locals in her community, interstate and overseas.