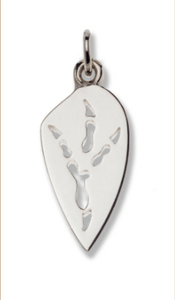 Bushprints Sterling Silver Wedge-tailed Eagle Footprint Pendant 
These inspirational Wedge-tailed Eagle footprints are cut out of solid sterling silver. For Gary, the maker, quality is the prime consideration and all pieces are carefully hand-finished, giving a fantastic lustre.
Length of pendant is 21 mm 
They are beautifully gift-boxed and in stock now. Weight: 24g in gift box. If you are interested in the same range in 9ct yellow gold please contact us for pricing.
Wedge-tailed Eagle Facts The Wedge-tailed eagle is Australia's largest eagle. It has a wingspan of about 2.3 m and a wedge-shaped tail with feathers. The chicks are white and their first feathers are a reddish brown, getting blacker as they age. They mate for life, although if one of a pair is killed they will find another mate. Breeding pairs are territorial. Both parents share the incubation and feeding of the young. We have a wedge-tailed eagle nest on Wire Hill at Rocklily and have watched the young take flight  they make three hunting rabbits for a while, then eventually we are back to two eagles.