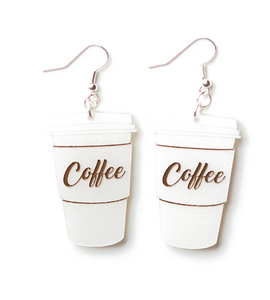 Coffee Cup Earrings By Martini Slippers
Coffee Cup Earrings
My favourite beverage when I sit at my desk in the morning - I'm pretty sure it's the favourite drink of lots of people. I created an Emergency Coffee Cup brooch and thought it would be fun to just have the coffee cups as earrings. 
Size: 3cm x 2.5cm
Material: Pearl white acrylic, hand painted on the etched areas with stainless steel shepherd hook finding. 
Made in Melbourne, Australia
How do I take care of my brooch
Our brooches don't like to be put through the wash. In fact, keep them away from water (and don't feed them after midnight).
The surface of our brooches vary and can consist of acrylic, bamboo & hand cast resin & polymer clay. Some of the bamboo pieces are unsealed and therefore won't survive a trip through though the washing machine. The acrylic pieces can over time get scratches on the surface. If stored correctly, this will not be a problem. Keep them out of direct sunlight.