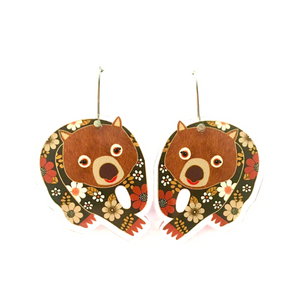 Pete the Wombat Earrings  by Smyle
Made in Australia from recycled Acrylic
This is Pete the Wombat. He's proper cute! 
Drawing this little fella was a complete joy and we guarantee that when you wear him you will feel happy and people looking at you will smile!  He's been made from 100% recycled acrylic...because the world needs more recycling. He is light weight and easy to wear.
AND....as an added feel good, we're partnered with World Wildlife Australia and a portion of every sale is donated to this wonderful organisation to help stop the degradation of the planet's natural environment and build a future in which humans live in harmony with nature. 
Earring size - 30 x 35mm
Overall earring length including hook - 45mm
All of our earrings are made using surgical steel fixings, perfect for sensitive ears
Recycled acrylic looks and performs just like standard acrylic but is significantly kinder to the environment.
A little note: This image should be used a guide only. Colours may vary depending on your computer and device screen. We do our best to accurately present colours and tones. The colours are represented to reflect how the piece would look if you were holding it outside on a sunny day.
In 2019 we started Smyle Designs, a little dream to make eco-friendly jewellery and we took our first products to market: Very homemade looking earrings! Ha!
It was a pretty exciting and we devoted all our spare time to it. We were obsessed! 
Our skills in design improved and our making process became more refined and we expanded our range.  
Covid changed everything.  We took the time made available in lockdown to build a website and start wholesaling to wonderful little shops all over the country.  Smyle Designs quickly became both of our full time jobs - yay!!
We absolutely love what we do! Working from home together with our cute little side-kick Charlie. Making things for you!
Every piece of jewellery in our range starts with our original artwork.
We have developed a unique process to print onto Vinyl Records, CDs and 100% recycled acrylic.
We cut to size using a CNC router and assemble into earrings, brooches and pins by hand....all just the two of us (and Charlie!), in our happy little home studio in sunny Brisbane, Australia. 
Our products handmade with happiness. They're cute and fun to wear! They're guaranteed to make you Smyle...
and they're good for the planet!
Our Mission
Our mission is to help the planet one ethical purchase at a time.

To use sustainably made products as a vehicle for change.

To make big change accessible to everyone.

For every purchase you make, we donate to the World Wildlife Fund.

To creatively recycle.

To ethically make.

To sustainable source.

To put our heart and soul into every product we design.

To use our talents and passion to spread Smyles ...and to be kind to the planet.