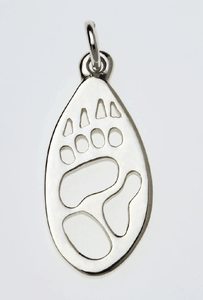 Bushprints Sterling Silver Wombat Footprint Pin
These inspirational wombat footprints are cut out of solid sterling silver. For Gary, the maker, quality is the prime consideration and all pieces are carefully hand-finished, giving a fantastic lustre.
They are beautifully gift boxed and in stock now. Weight: 24 g in gift box.
 Free postage for 2 or more in Australia. If you are interested in the same range in 9ct Gold
 Wombat Facts Australia has three types of wombats, the endangered hairy-nosed in Queensland, the bare-nosed in NSW and Victoria, and the southern hairy-nosed mainly in SA. Wombats have been known to run at 40 km an hour over short distances. Wombat teeth grow all the time, wearing down on roots and dirt. As a digging marsupial, wombats have a backwards-facing pouch and it takes 2 years before the joey is big enough to leave his mum and set out on his own. Bare-nosed wombats weigh in at around 20 kg. Wombats can be grey, black or brown and all colours in between. There are a very small number of albino wombats. Wombats sleep on their side and often end up on their back with all feet in the air.